All Entries in the "Northern pike" Category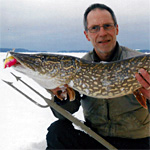 Fishing for Panfish is a blast, we all know that. Setting up a couple of tip ups is also another way to have some fun. However, if you really want a rush, try spearing. Yes, spearing through the ice is a blast.

Ice fishing expert Keith Stanton catches a huge Northern Pike while jigging through the ice in Michigan with his unique PikeKilla Lure. Includes some great underwater video footage of the giant pike attacking his jig! Must-see video if you have never watched it before. Thanks to Keith and PikeSpearing.com for sharing the awesome video!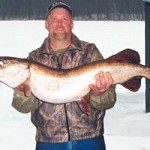 Backwaters, coves, weedy bays or a marsh are all potential spawning grounds for a northern pike. As the ice fishing season draws closer to an end the pike start moving towards their prime spawning grounds. Spearing anglers often see a spike in activity and this can be a signal that the Northern pike are changing […]