All Entries in the "Northern pike" Category
Fishing for Panfish is a blast, we all know that. Setting up a couple of tip ups is also another way to have some fun. However, if you really want a rush, try spearing. Yes, spearing through the ice is a blast.

Ice fishing expert Keith Stanton catches a huge Northern Pike while jigging in Michigan with his PikeKilla lure. Great underwater video strike!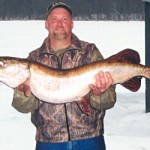 Using a combination of tip ups and bait rigs can improve your odds for catching more big Northern pike during the ice fishing season.