K & E Tackle Stopper Lures
GreatLakesIceFishing.com anglers rely on K & E Stopper Lures for our ice fishing success stories!

You can purchase all your ice fishing tackle and gear, and lures for any species or type of fishing for all seasons at great prices online at Anglers Mart – www.anglersmart.com – Your source for discount fishing tackle and more…
When you're out shopping for ice fishing tackle or tackle anytime of the year, look for K & E Tackle, Stopper Lures and these other excellent fishing brands – and check the ice fishing tips and techniques links below:
Ice Fishing Kits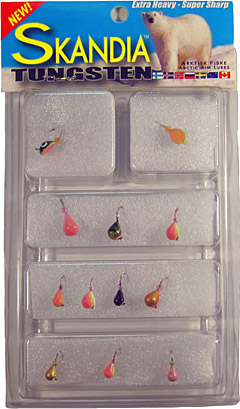 One of the hottest new ice fishing jigs on the market – Skandia Tungsten Jig kits contain 11 total pieces featuring all your favorite sizes and colors, and super sharp white nickel hooks at one great price!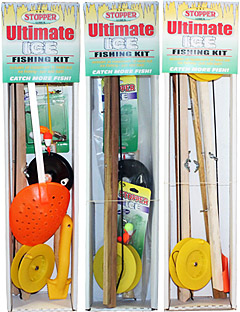 Three different complete ice fishing kits will have you on the ice catching fish in no time! Kit RS incluces an ice rod/reel, tip-up, skimmer, scaler, line and jigs. Kit RT includes an ice rod/reel, tip-up, line and jigs, and Kit TT includes two tip-ups. Your choice!
Latest K&E Stopper Lures Ice Fishing Articles
You'll find many great ice fishing tips on GLIceFish.com using K & E Stopper Lures complete and extensive lines of ice fishing tackle and accessories. Check out the latest articles about K & E Tackle Stopper Lures and the links below for Great Lakes and inland ice fishing tips and techniques:
SALE Save 20% on Ice Fishing Gear AnglersMart

-

Big exclusive GreatLakesIceFishing.com SALE now through next Wednesday, February 19, 2014! SAVE 20% on all the awesome ice fishing jigs, tackle and gear at AnglersMart.com!!

Mother Russia Ice Fishing

-

If there is one thing that I love it's innovation from other parts of the world integrated in the fishing industry here in the states. Some of these products come from arguably the most skilled ice fishing country in the world Russia.
Ice Fishing Tips and Tactics