By Dan Kimmel on Oct 20, 2011 with Comments 0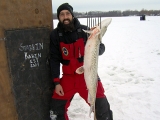 Ice fishing expert and GLIF contributor Keith Stanton shows just a few of the giant Northern Pike and Muskellunge he has jigged or speared through the ice in this picture gallery! Keith is the owner of PikeSpearing.com, expert jigger and creator of the unique ice fishing jig – the PikeKilla lure and a top videographer of ice fishing and outdoors video including the famous, amazing Pike Under Ice I and the rest of the series that includes the first of its kind underwater footage!

Filed Under: Ice Fishing Pictures
About the Author: Dan Kimmel is an avid angler, outdoor photographer and outdoor writer who becomes a computer guy in his downtime running web sites like this one, GreatLakesBass.com and AnglerHosting.com among others.
Comments (0)
Leave a Reply
You must be logged in to post a comment.