By Dan Kimmel on Nov 28, 2011 with Comments 0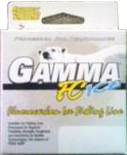 Many of you already know that Gamma makes some of the best fishing lines around. They make several different types and styles of lines to fit almost everyone's needs. However, did you know they also make some of the best ice fishing line in the industry. These lines include Gamma ESP Ice and Gamma FC (Fluorocarbon) Ice. Gamma ESP comes in 1, 1.5, 2, 4, 6, 8 and 10 lb spools. While Gamma FC comes in 2, 4, 6, 8, and 10 lb spools. Once you try Gamma Ice, you'll see why Gamma is a leader in fishing line technology. For more information or to order your Gamma line today call 800-437-2971 or visit them online at http://blackknightindustries.com/Home.aspx. You'll be glad you did.
Filed Under: Ice Fishing News
About the Author:
Comments (0)
Leave a Reply
You must be logged in to post a comment.