By Dan Kimmel on Jan 29, 2012 with Comments 0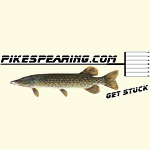 Keith Stanton and the PikeTeam over on PikeSpearing.com are running a new ice fishing photo contest through March 17, 2012. Catch your fish using the deadly PikeKilla Lure or a Bear Creek ice fishing decoy and take a picture of your catch with the lure or decoy in the picture.
Send your photos to keith@malynentertainment.com. All photo entries will be posted on the PikeSpearing.com Contest page. One winner will be chosen from each category – the PikeKilla Lure or the Bear Creek Decoy. Winners will be announced on the pikespearing.com web site on March 17th by random drawing.
When emailing be sure to include your name, address and phone number. See the PikeSpearing.com Contest page for prize package details. Enter as many photo catches as you can for more chances to win!
The PikeKilla Lure – jigging spoons

Bear Creek Ice Fishing Decoys

Check out Keith Stanton's awesome Pike Spearing DVD's including some fantastic underwater video action!

Filed Under: Featured • Ice Fishing News
About the Author: Dan Kimmel is an avid angler, outdoor photographer and outdoor writer who becomes a computer guy in his downtime running web sites like this one, GreatLakesBass.com and AnglerHosting.com among others.
Comments (0)
Leave a Reply
You must be logged in to post a comment.