By Dan Kimmel on Oct 15, 2011 with Comments 5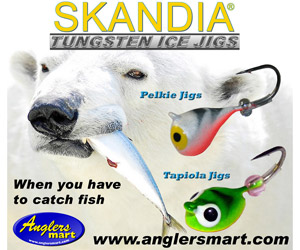 Tungsten ice jigs are the hot must-have lure this ice fishing season! Their smaller profile to higher weight ratio means you spend a lot less time getting down to the hot bite level while maintaining the tiny tear drop shape we all know and love for winter fish! Skandia has two models to meet your ice fishing needs – the tear drop-shaped Pelkie and the flat bottom and curved top Tapiola. The new shape of the Tapiola causes an erratic darting action.
The Skandia Pelkie Tungsten jig comes in sizes 10, 12, 14 and 16, while the Tapiola jig comes in size 12. They are available in 9 great fish catching colors like FireTiger, Perch, Black and more. There are also 6 new hot GLOW colors added to Pelkie line to light your fishing on fire! Glow Red is available now and the other colors will be in stores or available through AnglersMart.com for the early ice season!
Filed Under: Ice Fishing News • K&E Tackle
About the Author: Dan Kimmel is an avid angler, outdoor photographer and outdoor writer who becomes a computer guy in his downtime running web sites like this one, GreatLakesBass.com and AnglerHosting.com among others.
Comments (5)
Leave a Reply
You must be logged in to post a comment.