All Entries in the "Walleye" Category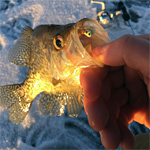 Brad Caden recently had a great day of ice fishing. Armed with his ice fishing gear and some of his favorite Skandia Tungsten jigs, he hit the ice near Cement City, Michigan.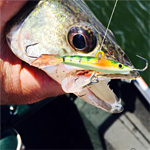 Here's a tip for guys that love to vertically jig for walleyes! When you find walleyes stacked up on a break, hole or rock pile and you want to stay on top of them, try the Yukon Shiners!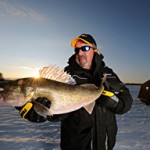 One moment the slip bobber was there. The next it was sinking out of sight. Mid-winter walleye ice fishing is best done with a two hole strategy. Fish a jigging spoon in one hole and a minnow under a slip-bobber in the other. A tip-up can easily be used in place of the slip bobber. […]