By Dan Kimmel on Aug 09, 2011 with Comments 0
One moment the slip bobber was there. The next it was sinking out of sight. Mid-winter walleye ice fishing is best done with a two hole strategy. Fish a jigging spoon in one hole and a minnow under a slip-bobber in the other. A tip-up can easily be used in place of the slip bobber.
The spoon serves as an attractor. Fish that don't hit the spoon often hit the minnow. When fishing deeper, darker water later in the ice fishing season a two inch spoon in a bright color works best. These include Chartreuse Glow and Chartreuse Perch.
The basic presentation is jigging the spoon with long, high snaps. This causes the spoon to roll over on its side a bit looking like a wounded bait fish.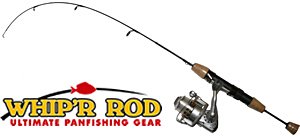 A long fishing rod gives more lift or movement than a shorter rod. Standing up provides even more lift. Experiment with a wild lift and drop. Then grab a shorter rod and try a more subtle lift. I use both a 28 inch and a 48 inch Whip R Rod.
Some days the fish hit on the lift but most days it will be on the drop. Pay attention to the strike and about where the lure is in relation to the bottom. Fishing rising up high to take a spoon tells you to set your slip bobber or tip-up higher off the bottom.
The aggressive jigging presentation often attracts walleyes, but doesn't always trigger bites. This is where the tip-up or slip bobber comes into play. A live minnow darting around frantically makes an easy meal for a hungry walleye.
Fishing two holes in tight proximity is a key part of the two hole tactic. The spoon will often draw their attention while the minnow seals the deal. Keep the second hole very close to where you are jigging.
Deep water is where most of the walleye will be found. A deep slot or a deep underwater point is nearly perfect. Suspended bait fish like smelt will often have the walleyes cruising just below them.
Around suspended bait fish is where the wild high lifting and jigging technique works best. These suspended walleye are used to seeing some flash from a school of smelt. Pay close attention to your spoon as it falls. Walleye love to hit a spoon that is on three of more feet of slack line.
If perch are the main forage then the walleye will be nose to the bottom or within three feet of the bottom. Walleye working the bottom require less lift on the jigging. The shorter rod is nice for this.
You can still fish aggressively on bottom hugging fish, just remember that you want your spoon in their eye sight. Working the bottom 2 or 3 feet is much easier for a walleye angler just learning to jig.
Minnows must be lively. Use the 3-4 inch size if possible. Much of the minnow base left in the lake during the ice season is larger than the crappie minnow size so popular during spring fishing.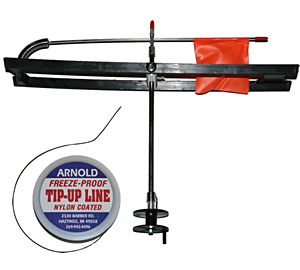 A plastic tip-up works much better than a wooden tip-up. You need a tip-up that will not freeze over. Make sure that your flag can trip easily for those nervous feeding walleye. I use the Bear Creek Pro tip-Up with Arnold Freeze Proof Tip-Up line. Tie on a fluorocarbon leader and you are ready to ice fish.

A slip bobber can be an ice angler's best friend. If you have extra jigging rods, rig one up with a slip bobber. Set the depth so that the minnow is one foot off of the bottom. Use the smallest slip bobber that you can. I start out with the very small Carlisle bobber and balance it with the lightest of split shots.
If your jigging spoon starts producing fish at higher off the bottom then adjust the slip bobber to match. Mid-winter ice fishing walleye takes a change of strategy from the early season and a bit more effort but the results can be well worth the effort.
Written by Jack Payne
Filed Under: Featured • Ice Fishing Tips • Walleye
About the Author: Dan Kimmel is an avid angler, outdoor photographer and outdoor writer who becomes a computer guy in his downtime running web sites like this one, GreatLakesBass.com and AnglerHosting.com among others.
Comments (0)
Leave a Reply
You must be logged in to post a comment.