Author Archive for Sam Gernaat

Sam Gernaat is an avid youth ice fishing angler who uses K & E Tackle and Stopper Lures products.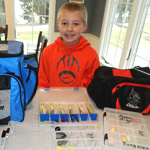 Lots of anglers underestimate organization. They may think that it doesn't help you catch fish. In my opinion, it does. Carrying many small tackle boxes is a good way to stay organized.