By Dan Kimmel on Jul 26, 2011 with Comments 0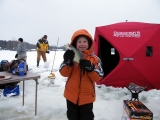 Fun day of family ice fishing for men, women and children courtesy of K&E Tackle on Bum Lake in Michigan February 6, 2011 with anglers of all ages enjoying fun fishing and a nice cookout too! Check out the all the pictures below!

Filed Under: Featured • Ice Fishing Pictures • K&E Tackle
About the Author: Dan Kimmel is an avid angler, outdoor photographer and outdoor writer who becomes a computer guy in his downtime running web sites like this one, GreatLakesBass.com and AnglerHosting.com among others.
Comments (0)
Leave a Reply
You must be logged in to post a comment.