Author Archive for Team Stopper

Ice fishing tips, techniques, tactics and ice fishing tackle and gear product information from various K & E Tackle Stopper Lures Team Stopper Pro Staff members. K & E Stopper Lures produces the best assortment of ice fishing tackle and gear you know on the market. You can find their products lines such as Best, Arnold, Bear Creek, Moon Jigs, Dot, Carlisle, Sitka, Skandia, Whip'R and more at your nearest sporting goods store, or online at AnglersMart.com.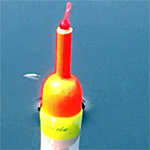 Every year I try something new when targeting panfish, specifically bluegills. I may try a larger jig, spider or some other type of lure to catch bigger panfish. Or I might try micro lures to entice these tasty treats.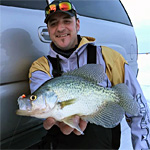 The ice has been hit or miss so far in 2017. Ice one week. Open water the next. Although many think this is a bad situation, seasoned veterans like Pro Raymond Tiffany take full advantage of this situation.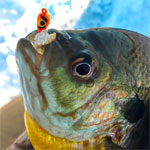 The New Skandia Tungsten Tear Drop ice jigs are lighting it up. Reports are coming in on the latest tungsten innovation from Skandia and fish are hitting the ice!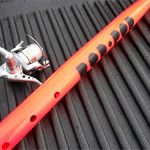 The new Rod Pod by K&E Stopper lures is going to be a game changer for all you ice anglers who get frustrated with tangled lines and busted rod tips.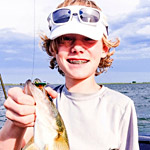 Just ask Cody Caraway about catching walleye. Cody is pictured here with a nice South Dakota walleye caught using a Yukon Minnow.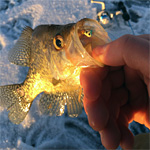 Brad Caden recently had a great day of ice fishing. Armed with his ice fishing gear and some of his favorite Skandia Tungsten jigs, he hit the ice near Cement City, Michigan.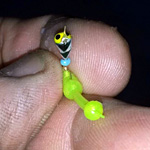 However, don't over look the other panfish species including the Crappie. Experienced ice anglers know this can be one of the best times of year to catch these giant panfish.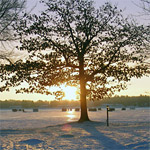 Most of us have enjoyed this last little blast of warm weather. However reality is coming soon with colder weather, and eventually snow and ice. This in-between time is a great time to get out the ice gear and get things ready to go.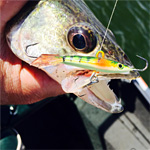 Here's a tip for guys that love to vertically jig for walleyes! When you find walleyes stacked up on a break, hole or rock pile and you want to stay on top of them, try the Yukon Shiners!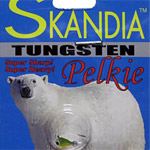 Some say the best ice fishing of the season is last ice. This may or may not be true but one thing is for sure, you'll want to be extra careful looking for that late season action.
Fishing for Panfish is a blast, we all know that. Setting up a couple of tip ups is also another way to have some fun. However, if you really want a rush, try spearing. Yes, spearing through the ice is a blast.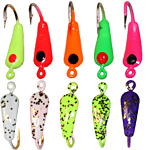 What ever happened to the good old days? Days before Vexilars, electric augers, body heaters, Tungsten ice jigs, and the list goes on and on. Even without all of the latest and greatest gadgets, we all seemed to still catch fish.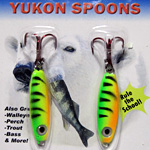 K&E Tackle would like to introduce you to the NEW Sitka Yukon Shiners and the Sitka Yukon Spoons. The Yukon Shiners are a jigging minnow type lure, while the Yukon spoon is modeled after your traditional spoon.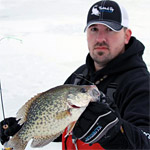 As the leaves change and fall ushers in the brisk weather, it signifies the start of the ice fishing season. There are many things that get a place on my to do list when I prepare for the hardwater.