By Dan Kimmel on Dec 05, 2013 with Comments 0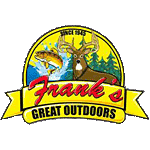 Franks Great Outdoors Shanty Days 2013 is December 13 – 15. Franks will pull out all the stops for this huge event. Great deals on most if not all of your favorite ice gear. Factory reps will be on hand to answer your questions and get you on your way to catching more fish.
Franks is located in Linwood, MI at 1212 N. Huron Rd. (M-13).
Store hours are:
Friday: 6 am – 9 pm
Saturday: 5:30 am – 7 pm
Sunday: 6 am – 6 pm
For more information on this event and directions to Franks, go to www.franksgreatoutdoors.com, call 989-697-5341, or email info@franksgreatoutdoors.com.
Filed Under: Ice Fishing News
About the Author: Dan Kimmel is an avid angler, outdoor photographer and outdoor writer who becomes a computer guy in his downtime running web sites like this one, GreatLakesBass.com and AnglerHosting.com among others.
Comments (0)
Leave a Reply
You must be logged in to post a comment.